Choosing Eyeglasses – Everything Beauty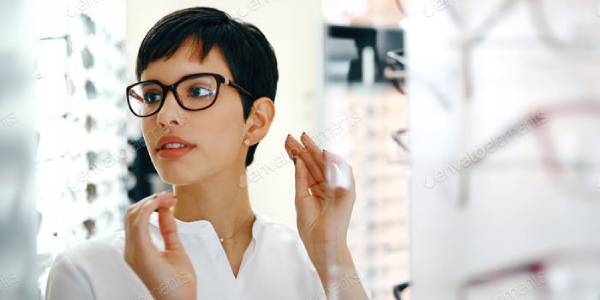 When looking for the perfect pair of eyeglasses, there is one main factor you should look for; how well they will look on your face. When you are looking for the right pair of eyeglasses, most people will normally try on every pair possible in order to judge which is best for them, but what if you could narrow down your search before you even step foot in the eyeglass store? Now you can. Simply determine your face shape and coloring and you will be able to establish which shape and eyeglass color will fit you best. Choosing the correct eyeglass frame for your face shape can be as simple as following the three keys that the Vision Council of America (VCA) has set forth in their Envision Yourself Program. These three keys are as follows:
The frame shape should contrast well with the face shape, the frame size should be in scale with the face size and eyewear should repeat your personal best feature (such as a light color frame to match blonde hair). There are seven basic face shapes according to the VCA and when you can fully understand which shape your face falls under, you will be one step closer to determining your perfect pair of eyeglasses.
The seven face shapes are: base-down triangle, base-up triangle, diamond, round, square, oval and oblong. Also, a good optician can help you when choosing the perfect pair of eyeglasses by following these guidelines. Overview of Face Shapes and Eyeglass Frames As stated above, there are seven basic face shapes and you should always be aware of which face shape you have in order to determine which eyeglasses will suit you best. Making sure that you determine which face shape you have and that you choose an eyeglass frame to fit your shape, you will want to follow the subsequent guidelines.
A round face has curved lines and the width and length are in the same proportions with no angles. For choosing the correct eyeglasses for a round face, you should try angular narrow eyeglass frames to lengthen the shape of your face and look for a set of eyeglasses that has a wider structure than long, such as a rectangular shape. An oval face is believed to be the perfect face shape due to its equal proportions. To keep your faces physical balance, look for a set of eyeglasses that are as wide as the broadest part of the face. Base-down Triangle face shapes are narrow at the forehead and widen around the cheek and chin. To best proportion the top half of the face, choose an eyeglass that is wider in shape.